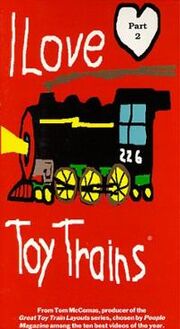 The second video in the "I Love Toy Trains" series.
Dixieland Opening (2

009 digitally remastered version only)

I Love Toy Trains Opening Theme (Later versions)
Symphony No. 5 - I. Allegro con brio (Later versions)
I've Been Working On The Railroad
I'm A Train (Later versions)
The Wonderful World Of Trains (Later versions)
Trepak (Russian Dance) (Later versions)
Stars and Stripes Forever
I Love Toy Trains Closing Theme (Later versions)
Music Effects
Toy Train Revue Instrumental Pieces
Unknown Circus Song
Releases
Edit
1994 VHS (First original release)
1997 VHS (New footage, updated label, still has 1994 Packaging)
1998? VHS (Has 1994 label with normal reels, has 1997 Program with MTH Screen before credits, and 2 new scenes are added)
2000 VHS (New packaging, new label, has 1997 program but also has a new TM Books and Video logo, and some changes are made, like the "I Love Toy Trains: The Store Screen", which is placed after the credits. There also could be a 2002? reprint of the VHS which has the "Thanks for watching" promo, which is narrated by Jeff McComas, instead of Joe Stachler) 
This video and I Love Toy Trains 3 are the only videos not to use the Dixieland Opening. This was fixed on the 2009 digitally remastered versions.
On later versions, the "Wonderful World Of Trains" music video mostly uses footage from old Lionel commercials.
On the 1994 VHS, the closing credits are different, but starting with the 1997 version, it replaces the original credits with the James Coffey version of the I Love Toy Trains closing theme. The footage during the credits is from TM's "Lionel The Movie 1".
Community content is available under
CC-BY-SA
unless otherwise noted.