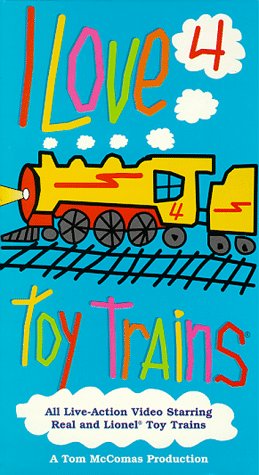 This is the fourth video in TM's 
I Love Toy Trains 
series.
Songs
Dixieland Opening
I Love Toy Trains Opening Theme
Stop, Look, Listen
Smooth Operator
What Do 'Ya Hear?
Signal Lights
I'm An Engineer
Early In The Morning
Dinosaur's Revenge
I Love Toy Trains Closing Theme
Trivia and Goofs
This is the first time Jeff's name is heard in I Love Toy Trains.
This is the only video of two things

The only video to date to feature BRIO Trains, although some of the footage was used in "I Love Toy Trains 3" (1997 and 2000 Special Edition versions only), but it has the song "Come Ride Along with Me". This version also features train sounds. It has that song instead of an instrumental version of the opening theme seen in Part 4.
The only video that doesn't feature footage of Standard Gauge trains.

This is the last video of two things

The last video to be narrated by a girl. 
The last video that doesn't feature American Flyer trains until I Love Toy Trains 10.

This is the first video of a few things:

The first video to use exclusively James Coffey songs.
The first video to frequently use narrated segments.
The first video to discuss how the different locomotives work and the roadnames they come in.

Some sparks can be seen when the diesel locomotive runs into the milk cans.
Blue-Tak is used to keep the telephone pole in the T-Rex's mouth.
Behind-the-Scenes footage of the dinosaur segment was uploaded to YouTube by tmbooks.