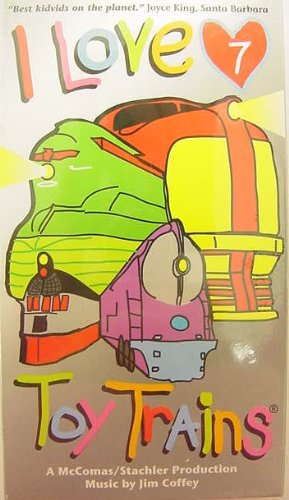 This is the 7th video in TM's 
I Love Toy Trains 
series.
Dixieland Opening
I Love Toy Trains Opening Theme
Novelty Trotting Music
Counting Those Railroad Cars
Railroad Of America
Streamliners
Fidgety Feet
I Love Toy Trains Closing Theme
Trivia and Goofs
Edit
This is the first time they feature a LEGO layout in the original series.
This is the only video of a couple things:

The only time they show Thomas the Tank Engine in the original series, athough a Thomas the Tank Engine electric set is seen in I Love Toy Trains 8 in the Wrong Island Railroad's shop.
The only time Pokémon are shown in the show, athough they are mentioned in I Love Toy Trains 9.

In the song Streamliners, the lyrics go "Hudson, Daylight, And Burlington Zephyr," But the video shows a Commodore Vanderbuilt, an Empire State Express, and a Dreyfuss Hudson. Furthermore, The Burlington Zephyr was a Diesel loco, and the Hudson isn't a Streamliner at all.
Some of the scenes of Grand Canyon #18 were reused from the Shining Time Station Christmas episode "Tis a Gift."
This is the last time in the original series a Marx train is shown.
When broadcast on RFD TV, the ending clip is shown twice.