This is the 8th video in TM's I Love Toy Trains series.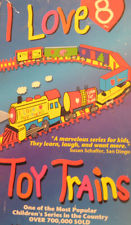 Dixieland Opening
I Love Toy Trains Opening Theme
I've Been Working On The Railroad
New River Train
Big Train 'a Coming
I Love Toy Trains Closing Theme
An instrumental song by James Coffey is played in the Blooper Mania segment, but is unknown.
Trivia and Goofs
Edit
After the end credits, a deleted scene of Jeff trying to do the opening scene is shown. Before the scene, there is some text, which say, "If at first you don't succeed..." and after Jeff does the opening successfully, there is some more text, which say, "try, try again."
A Thomas the Tank Engine and Friends Toy Set is seen at the Wrong Island Railroad's shop.
Jeff says the Wrong Island Railroad is the 1st layout they've showed with moving cars, but there have been moving cars on other layouts on the show before.
The Santa Fe Blue Goose is just a repainted Norfolk and Western J-class.
A clip from this video was used in Part 6's Song, Animal Train, specifically the horse on the handcar.