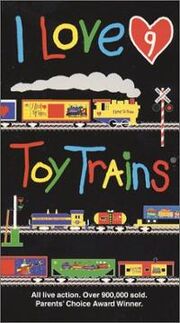 This is the 9th video in TM's
I Love Toy Trains
series.
Dixieland Opening
I Love Toy Trains Opening Theme
Legends Of The Rails
Toy Train Hall Of Fame (Extended)
I Love Toy Trains Closing Theme
Several Instrumental Peices
Toy Train Hall Of Fame
Edit
American Flyer Mayflower
American Flyer 2-Tone Blue President's Special
Lionel Blue Comet
Ives Circus Train
Lionel State Set 
Dick Brown's layout was seen before in I Love Toy Trains: The Music Video.
Pokémon Trading Cards are mentioned.
The Warner-Pathe Newsreel logo is seen in the fake ad for Lionel's 1938 NYC Hudson.
Sparks can be seen when the Northern Pacific diesel is running fast.
Some rare color footage of the Dreyfuss Hudson can be seen when Jeff talks about the Hudson.
The Newscaster's voice is actually Tom McComas' voice.
This is the first video to have the Toy Train Hall Of Fame sequence, which will last until Part 11.
The Toy Train Hall Of Fame song is extended to include lines about this episode's inductees. Parts 10 and 11 use a shorter version.